I met Kristina Carrillo-Bucaram a few months ago and fell in luuuuvvv with her and her passion to spread the word about going RAW Vegan! In Houston TX she is a local celebrity, especially in the Vegan community and her celebrity grows each day! Kristina runs an Organic Veggie Co-Op in Houston which is how I met her. I could go on and on about her accomplishments in the community, her personal life and all the lives she has touched with her great big "Hugs" that she is known for. She is an all around amazing person and someone I truly look up to. But…let's talk about fashion and this AWESOME Lettuce Dress she made with some help of volunteers. Check out more info about the dress below and there are a couple of Videos I have added as well! <3 Kami

Vegan Trendsetter Kristina Carrillo-Bucaram's Creates "Raw Couture" with a living lettuce dress!
Kristina Carrillo-Bucaram has created yet another trend in the Vegetarian, Vegan, and Raw Food World with a living lettuce dress. The dress concept was created by Jack Potts who was inspired by Kristina's passion for raw, organic produce. Jack Potts vision to have her represented in a living lettuce dress parallels how passionate Kristina is about the Vegan Lifestyle.
When asked about the shoot Kristina remarked, "I rarely feel like myself when I am dressed up in "real" clothing. I have always dreamed of living in the Garden of Eden. There is just something about wrapping yourself in the very essence of nature that connects you not only to the earth, but also to the goddess within. Fashion to me means wearing what makes you feel beautiful. I feel beautiful when I am in my element, fully immersed in raw nature."
The lettuce for the dress was sourced by the popular fruit and vegetable co-op that Kristina has founded and currently runs, Rawfully Organic. This 80 lb. leafy garment is truly a couture creation, sewn together by hand and affirmed on a re-purposed bed sheet. The dress is layered of green and red leaf lettuce, swiss shard, kale, and collard greens, and were carefully assembled and placed on Kristina's high-fashion model figure.
Article Courtsey of Jessica Zapatero with Retna Media
Photography Credit : Sofia Van der Dys
Location: Bassman Blues Blueberry Farm
Model: Kristina Carrillo-Bucaram
Rawfully Organic Co-Op – www.rawfullyorganic.com
RAW Food Coaching and Info – www.fullyraw.com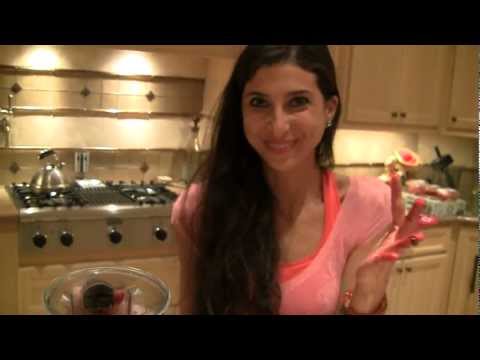 Related posts
coded by
nessus